When a mutual friend introduced us, Mari could not help but to think how strange some gringos could look. Nevertheless, Mari made the first move when she asked Jim if he would like to help her learn English. Equipped with his 10 word Spanish vocabulary, Jim eagerly agreed. This first chance encounter developed into a friendship that would last for six years and counting. Cultural and linguistic differences aside, the "friendship" boundary kept us from considering any further relationship. It wasn't until a few years later that someone was brave enough to initiate the first kiss (we won't tell who it was). After only a few years of refining our Spanglish, we were both surprised how well we could communicate with each other and how much we learn from each other. As our love grew, what seemed like insurmountable obstacles soon became part of an increasingly stronger bond between us. Mari believes the most important thing Jim showed her is unconditional love. Jim believes the most important thing Mari showed him is that the logical way is not always the right way.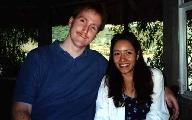 Click picture for album
Jim proposed to Mari on November 23rd, 1999. That evening started with plans to go to a business dinner for Jim's company at a nearby hotel. When Mari walked into the hotel banquet room, she saw a single table with dinner served, four dozen roses spread about, and no one else in sight. With the surprised look still on her face, Jim popped the question on one knee. Mari didn't say anything, so just to be sure, Jim asked again, and after the shocked expression washed away, she emphatically gave her answer.


Jim wanted Mari to participate in selecting her own engagement ring, so on that evening he gave her his most valued possession as collateral: his teddy bear "woof woof" he had since his first Christmas. Mari received her ring shortly after, but Jim did not get his teddy bear until shortly before the big day...
Some of the big events between the acceptance of proposal and the repeating of vows were captured on film in the album to the right.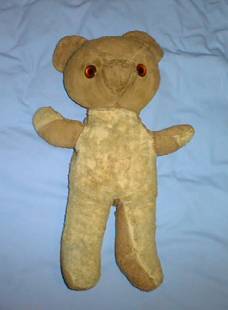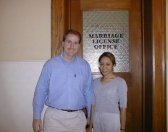 Click picture for album